Verasolve has been named – for a third consecutive year – as one of the top public relations agencies by the Washington Business Journal, ranking #13 in the 2018 Book of Lists.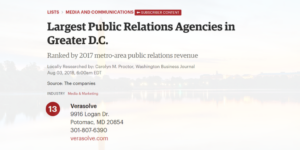 "I'm always impressed by the accolades our team is able to earn," says Verasolve Chairman and CEO Ethan Assal. "Verasolve is comprised of such an outstanding group of marketing, public relations and branding professionals who continuously achieve tangible results for our clients and excel at building stakeholder value."
Read the full list HERE.