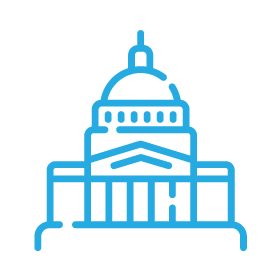 Set Up a Meeting
Marketing products and services to the government is no easy task. With shrinking federal budgets, regulatory and compliance challenges, ever-changing leadership, and lots of competition, B2G companies need an edge to grow their businesses and gain market share.
Verasolve knows the federal contracting space and the nuances of reaching government decision makers better than any other marketer in the region. Large or small, prime or sub, we use tailored marketing solutions and targeted PR strategies that help you differentiate your business in a crowded market, establish you as a thought leader, and keep you mission focused.
We've supported hundreds of government contractors over the past decade and have developed proven strategies that build credibility and influence government decision makers.
OUR MODEL
Verasolve's unique operating model is based on 20 years of experience in outsourced marketing and public relations. We focus on providing measurable value, not on the number of billable hours. That's why we've deliberately avoided a standard agency model. Our virtual, fractional presence in your business gives you the freedom to determine the length of your engagement by eliminating the pressure of long-term agreements and allowing you the option to cancel any time with just two weeks' notice.
Virginia-based Electrosoft Services, Inc., a provider of diverse technology-based solutions and services to the federal government, is fast approaching its graduation from the Small Business Administration 8(a) Business Development program. Because it will leave the 8(a)-set-aside program, the firm needed to position itself to successfully transition and compete with much larger federal contractors. Electrosoft understood the importance of strategic marketing and PR in establishing the firm as a thought leader in the cybersecurity field and conveying the firm's capability to deliver extraordinary results for federal agencies.
Verasolve's efforts also contributed to significant organic business growth as well as new market penetration. Year-over-year revenue growth was 40% in 2018 and 68% in 2019.
Contact Us Today
Contact us today to learn how we can help you enhance brand awareness, generate qualified leads, and increase closing ratios.
Get In Touch