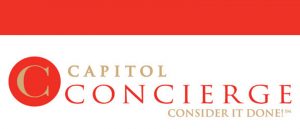 I'm writing to inform you of the positive experience I and the Capitol Concierge team have had since bringing Verasolve on two years ago to handle our marketing and PR. Sarah Cody has worked closely with us during an exciting time for Capitol Concierge. When I purchased the company at the end of 2007, I knew it was time to give Capitol Concierge new life and at the very least, a facelift.
Verasolve developed a logo that we can all be proud of, and a beautiful and sophisticated website that has positioned us as the company we are—dedicated to best-in-class service for each and every client and customer. We have gotten countless compliments on our new logo, website and overall "new look" of the company. Sarah has carried our new branding through all of our marketing materials, making all of our ads, company brochure and other materials consistent in design and in messaging.
Verasolve has positioned Capitol Concierge in the media and has helped us gain high profile company recognition as well. They have completed and submitted nominations for numerous awards and company listings, resulting in me being honored with SmartCEO's Brava! Women Business Achievement Award, Washington Business Journal's Women Who Mean Business Award and eWomen Network's Matchmaker of the Year Award finalist in 2009 alone. They also helped place us on the 2009 Inc. 5000 list and in being named a finalist for the 2010 Helios HR Apollo Award.
Verasolve is my go to firm for developing all company announcements and press releases, and has helped me to edit important proposals, internal communications and partner communications. I would proudly recommend Sarah's work and that of Verasolve.
Sincerely,
Lynda Ellis
Owner, President & CEO
Capitol Concierge, Inc.
Download PDF Testimonial