Strategic marketing and public relations program focusing on awards and content development
Virginia-based AbleVets LLC, a leading provider of advanced health IT solutions for government, sought to promote corporate growth, expand its federal customer base and support recruitment of difficult-to-fill technical positions. At the time of Verasolve's engagement, AbleVets employed 117 employees, annual revenue stood at $47 million and 99% of that revenue derived from Department of Veterans Affairs (VA) contracts.
Verasolve refined the company's messaging promoting the firm as a Veteran-owned business seeking to deliver health IT solutions designed and implemented by Veterans to improve Veteran health. At the same time, Verasolve needed to be mindful of the company's objective of penetrating the federal civilian health IT market. Verasolve emphasized AbleVets' successful engagements, ongoing contract and award wins, executive hires and community engagement efforts to present AbleVets to the media as a force in government contracting that solved the most difficult health IT challenges. Verasolve then leveraged these corporate achievements into compelling award nominations for the firm, its executives and its federal clients and partners.
Verasolve initiatives helped AbleVets achieve a staff totaling 325, revenue exceeding $95 million and a customer base reflecting more diversification, positioning the firm for its October 2019 acquisition by the Cerner Corporation.
Verasolve's strategic marketing and PR efforts consistently delivered results that increased AbleVets' name recognition and established its executive staff as thought leaders in the federal health IT space. Notable marketing and PR results achieved over the period of engagement included:
Over 280 media mentions in key trade and business publications prompted by nearly 30 Verasolve-generated press releases and media alerts
A high-profile article in the Washington Business Journal series on"Government Contractors to Watch."
Multiple feature articles promoting VA's LEAF platform, including GCN's "Digitizing VA Processes From the Ground Up."
15 blogs, many of which published on the company and client websites as well as LinkedIn, addressing community engagement, recruitment, executive profiles and technical topics.
10 customer success stories promoting AbleVets' core competencies.
Multiple employee testimonials to support recruitment efforts.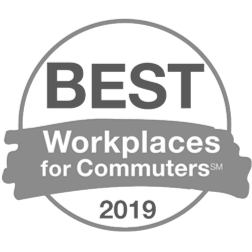 Washington Business Journal 2019 Top 75 Fastest Growing Company (ranked #4)
AFCEA International's 2018 Small Business of the Year
2018 Northern Virginia Technology Council Tech 100 Company
Washington Technology Fast 50 Company (2018 and 2019)
Women in Technology 2019 Leadership Award
FedHealthIT Innovation Awards (2018 and 2019)
2019 WashingtonExec Pinnace Award
Monster and Military.com 2019 Top 10 List of Best Companies for Veterans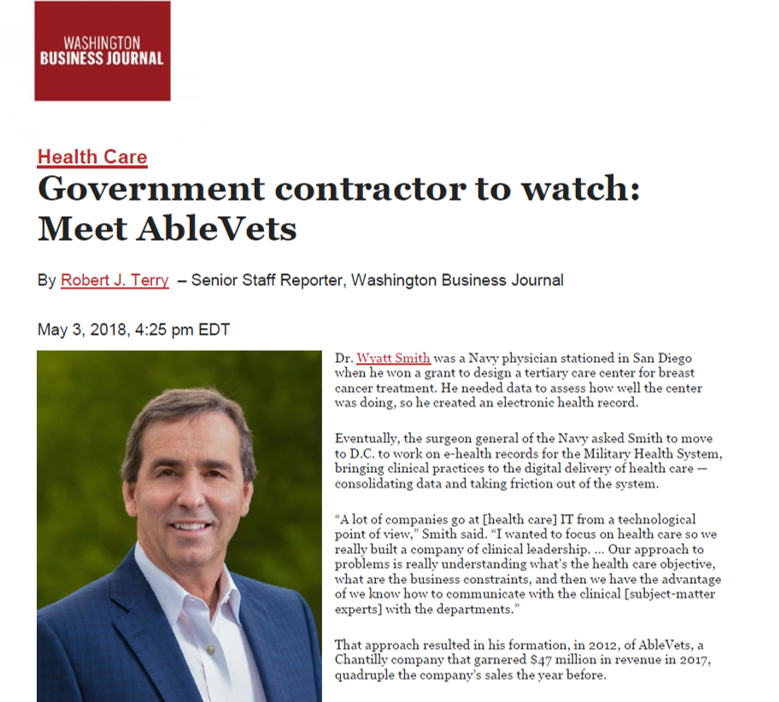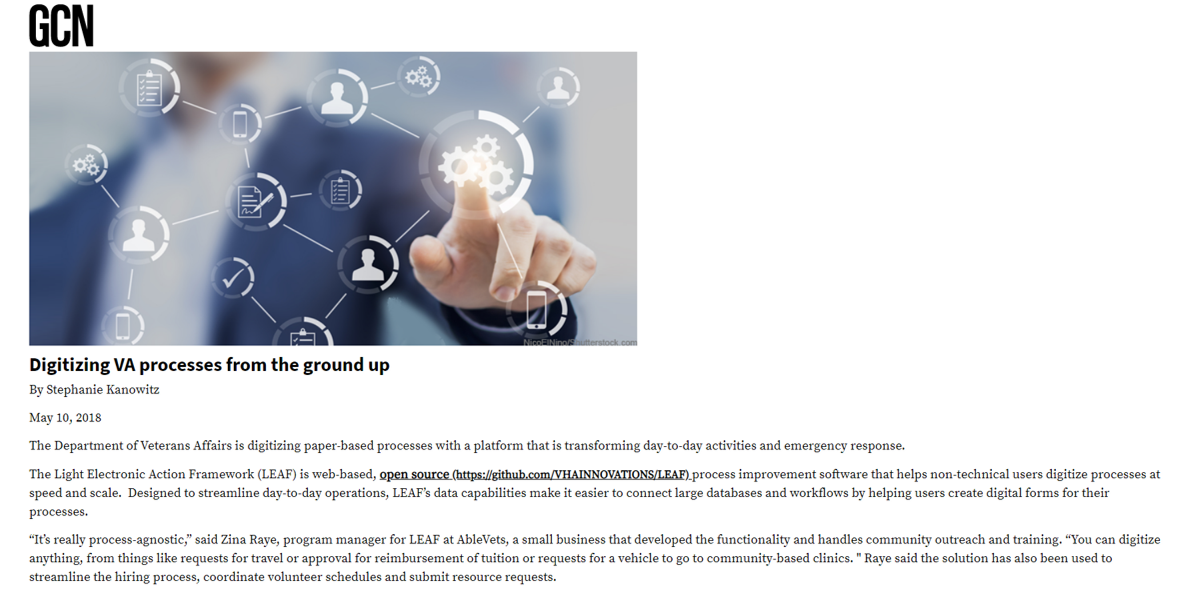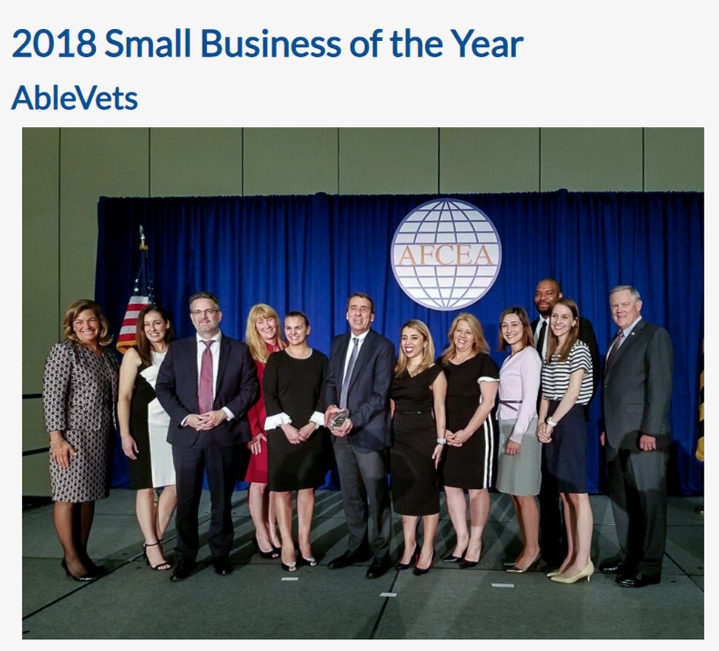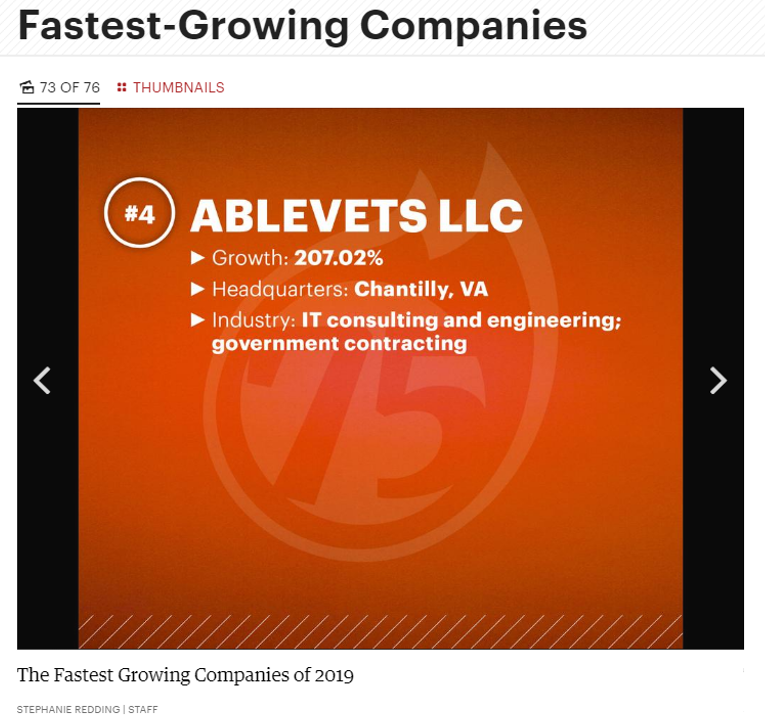 "Helping one government contractor shine among hundreds of similar firms in the DC region is no small feat. I commend Verasolve for the successes achieved on our behalf."

Edda Van Winkle

Executive Director of Brand Management, AbleVets LLC
Read AbleVets's Testimonial
Contact Us Today
Contact us today to learn how we can help you enhance brand awareness, generate qualified leads, and increase closing ratios.
Get In Touch