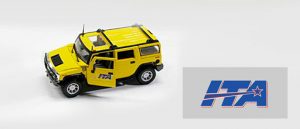 Just wanted to zap you a quick note of thanks for your support over the last couple of years.  I've really been thrilled with the new ITA logo and slogans, as well as all of your marketing help, including the new brochures, new folders, new demo CD, new booth, and countless events/shows.  I don't know if I told you, but I think that the landlord put the huge sign of the new logo on our nine-story building on I-95 because he liked it so much!! The articles you have placed in Federal Times, Government Computer News, Washington Business Journal and Virginia Business have had a very positive impact on sales and brand recognition.
In the upcoming months I'm going to need your help for our investment and strategic capital structure activities.  I really like the direction the book is moving in and I'm pleased with your preliminary successes in getting some interest from potential partners.  I count on you as one of my key advisors and expect continued great things from you!
Please let me know if there's anything I can do to help you out or return the favor!
Best wishes,
Donald C. Brewster Jr.
Chairman & Chief Operating Officer
Innovative Technology Application, Inc.