Website Development and Digital Marketing for Research and Data Analytics Firm
ORI, a firm based in Herndon, Virginia that serves the federal government, commercial businesses, and nonprofits and associations, had been known for decades as a data collection and analysis firm. The firm wanted to consistently communicate its varied services to its very different target audiences and increase awareness of its CX (customer experience) expertise.
Verasolve began by helping ORI leadership to define its messaging for each distinct audience. After conducting a brand workshop and developing fresh value propositions, Verasolve launched a digital and content marketing strategy that incorporated the new messaging and highlighted ORI's Customer Experience services. The strategy included,
New website: Verasolve handled creative direction, selected the website developer, designed the site navigation, wrote all website copy, and selected all imagery.
Social media marketing: Verasolve helped ORI build up its social media presence on Twitter and LinkedIn and live-tweeted key events on ORI's behalf.
Content marketing: Verasolve developed an editorial calendar and worked with ORI's leadership to create compelling blog posts tailored to ORI's target audiences.
The new website and content marketing strategy have successfully helped ORI define itself and communicate with its prospects. Lesley Boucher, VP of Consulting and Customer Experience, told Verasolve that the new website's clear messaging resulted in more accepted meetings from prospects and has, overall, helped ORI's executives build trust as thought leaders in their industry.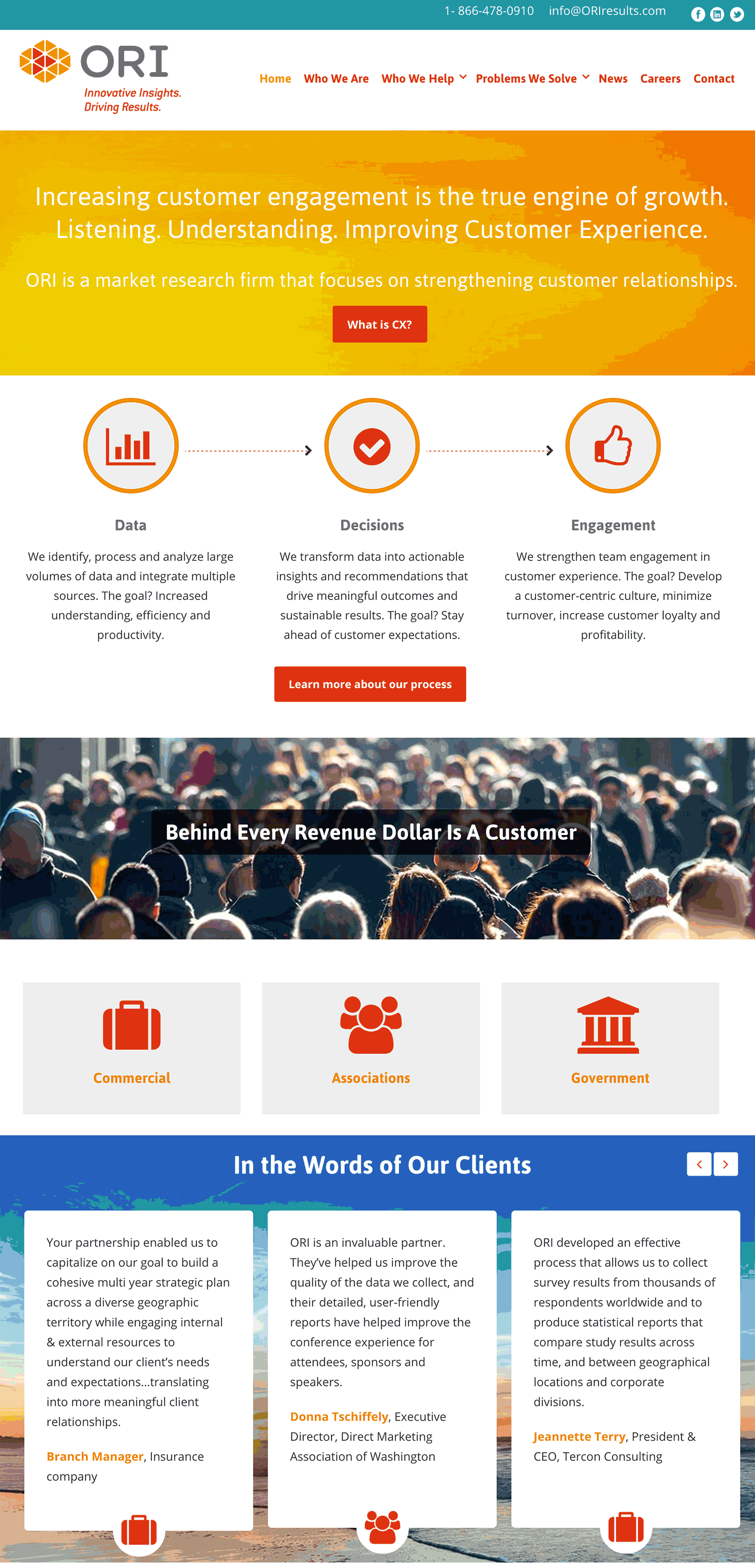 "Verasolve integrated seamlessly into our marketing team, working together to create and implement our new marketing strategy, which enhanced our website, strengthened our social media presence, built up our blog and refined our entire digital presence."

Lesley Boucher

Vice President, Consulting and Customer Experience, ORI
Read ORI's Testimonial
Contact Us Today
Contact us today to learn how we can help you enhance brand awareness, generate qualified leads, and increase closing ratios.
Get In Touch